A few days after writing an ancillary piece for this article, I finally sat down and read through Alex Garland's treatment. Although I've had it for some time, I hadn't read it before because I was considerably excited about the fresh potential the film had and, to be frank, I didn't want to ruin it for myself despite the fact that by the time it would have reached the big screen there were rewrites already issued by both D.B. Weiss and Josh Olsen.
Now that the film is on indefinite hiatus, I took it to task to see what his original plans for the film had been. What I read scared the hell out of me.
That's not to say that it wasn't a well-written script because, for the most part, it was an incredibly engaging read, definitely the work of a talented and experienced screenwriter. It wasn't how it was written, but rather, what was written itself. Being a fan of film, I am well aware of the compromises and devil deals which sometimes must be afforded in order to get a preexisting intellectual property onto the big screen, but to say I was concerned with what I read would most certainly be a gross understatement.
Since there might still be the slimmest of possibilities that something close to Garland's version of Halo could be made, I won't ruin anything for you pertinent to the ending or the larger themes at play in the film's story. Overall, it read to me like various pages of Dietz's novel watered down and meshed together in a compact and linear format.
That said, it had very little to do with Halo – at least the Halo that you and I have come to know over the last seven years.
In Garland's version, for example, there is no Sergeant Johnson. Within the context of the games, Johnson's role is huge. He is largely comedic and colorful and his comments provide some much needed levity to the rather bleak events which surround our characters.
Instead of him, Garland offers Major Silva, the overtly-aggro, war mongering ODST leader who has personal issues with Spartans and has no element of humor at all. In fact, the Chief, who is introduced initially as a powerful weapon of mass destruction, comes across somewhat effete next to Silva, much like the larger, overweight kid you knew in high school who could have kicked the smaller dude's ass but continued to take it on the chin because of self-confidence issues.
A lone ODST takes on a towering Brute Chieftain in Blomkamp's Halo: Landfall short, which is the closest fans currently have to a live action Halo film.
Without Johnson taking the critical comedy queues, anything in that department is left squarely on the Chief and Cortana's doorstep and here it is often mishandled. There was more than one wince offered by yours truly and that was before the dream sequence, which detoured from the "strangely bizarre scenario" to "so this is still Halo, right?" status.
Early on, we also see that the Covenant were not the ones who released the Flood, painting the person responsible in a completely different light than the game's fiction does. These issues combined with the lack of introducing the concept of "Reclaimer," something which becomes extremely critical if a trilogy is to take shape later, begs some serious questions.
There's no telling what the rewritten script would have offered in 2006, but if it was anything close to Garland's it is a good possibility that a rather large contingency within Halo's community would have been confused and frustrated.
Had the film been pushed through to completion, it would have been directed by Neill Blomkamp.
Although he is an incredible artist in his line of work, his since-discovered vision of Halo brought to film form is the diametric opposite of what many diehard fans of the trilogy might expect. According to him, this Halo would "feel like the most brutal, real version of science fiction in a war environment that you've seen in awhile" through the use of "degraded, screwed-up looking footage." And this, he claims, was the reason why the studios "threw a noose around" him. [10/08/2007]
While I don't know which studio it was that stopped him, I would gladly like to shake their hands for this decision. I humbly applaud his other high-quality work and according to Jackson he was a healthy driving force during pre-production at Weta, but the notion of hijacking one of the most beloved science fiction tales of our generation for some experimental cinematographic venture is confusing. For the installed base, the trilogy is a vividly-colored space opera on a grand and epic scale – not a shoddy, embedded camera capturing a few hours of gritty war footage.
Blomkamp's goals for a Halo film would have looked very different than the Halo we've grown to love, which, when you consider the sheer population of Halo fans, is probably who you would want to ultimately please.
Then there's Beattie. God bless his heart. The man must love Halo. Not only has he taken time away from his busy queue of films to pen a spec script at no cost, he's also commissioned concept art and written a full prospectus for two other titles representing an overarching trilogy. His first script was entitled Halo: Fall of Reach apparently to be followed by Halo: Rise of the Flood and Halo: Battle for Earth. At this point, the only people who have read Beattie's work are those who he has specifically allowed to. [04/01/2008]
That being the case, I can't personally judge the product but I would be lying if I didn't say that I was more than concerned with the premise. His notes are clearly taken from Nylund's first novel, which, although a great read, has very little to do with games in the first place. It's an intense prequel and origin story, but it's not the story of Halo.
There are so many elements of the first game which audiences resonate with that would be shortchanged – elements, which many feel are intrinsic to the fabric of Halo's core story. The mystery and majesty of the Halo ring world, the horror of the Flood threat and the concept of the Reclaimer are all key elements which define Halo for many fans. While it's likely that Beattie touches on these issues in the sequels, the origin story of the Master Chief takes center stage in the first film – which is incredibly strange given that the Spartan's origin is of little concern within the games themselves.
It also removes the inherent mystery of the Master Chief, as we bear witness to him being abducted and trained as a child – something we'll discuss a bit later.
Despite some very real issues with this approach, his vision of three films, if properly executed, could represent a compelling overall story arch. That said, there should be a serious apprehension which considers the potential of fallout that can occur from pulling the franchise too far from its roots. At its core, Halo's story rests firmly in the arms of the trilogy – more specifically, the tale presented Halo: Combat Evolved as penned by Joseph Staten.
The more radical the departure, the less likely real fans will acquiesce to such a presentation.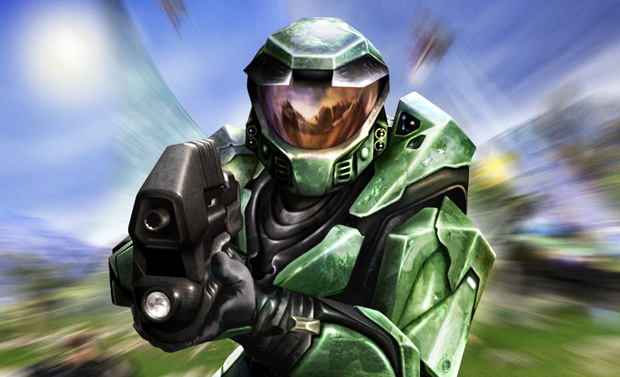 Interestingly and despite its own financial success, the existing treatments offered by Hollywood's best attempt to redefine the first game's fiction rather than capture it.

Whether a Faustian bargain of compromise – the wholesale departure from the core fiction of the first game – is something which will inevitably follow every attempt to make Halo in to a feature film, we can't know for certain.
It should be said, however, that it need not be this way.
Continue to "I wanted a closer look."
Comments Off

on The Faustian Bargain
---