THE PLAN
Before the Rookie's feet ever hit the ground, there's been a lot of behind-the-scenes plotting that's taken place to get him there. And with part of the opening cutscene of the game now revealed to us, let's dive right into things and place it in context with what we already know, starting with a B.net transmission:
<\\> UNSC OFFICE OF NAVAL INTELLIGENCE
<\\> TAC-OPS LOGISTICS DATABASE [ONI.SEC.PRTCL-1A]

<\ * PRIORITY! * RESOURCE RE-ALLOCATION REQUEST

>> SENT: [DARE.V.500341(S1)]
>> RECEIVED: HEAVY CRUISER "SAY MY NAME" [SMN.ACTUAL]

\ PARTIAL VTT TRANSCRIPT AS FOLLOWS…

[SMN.ACTUAL]: "The situation on the ground isn't my concern."
[DARE.V.500341(S1)]: "I understand, Admiral. But I need –"
[EXPLOSION (4.0098s)]
[SMN.UNKNOWN]:[UNINTELLIGIBLE > PANIC(?)]
[SMN.ACTUAL]: "Empty archer pods six through twelve!"
[SMN.ACTUAL]: "Ready the MAC, and come about!"
[SMN.UNKNOWN]:[UNINTELLIGIBLE > INSUBORDINATION(?)]
[SMN.ACTUAL]: "It may have passed us, Lieutenant, but it's still in range."
[SMN.ACTUAL]: "Come about. And shoot it in the ass."
[EXPLOSION (2.3482s)]
[STATIC (3.8761s)]
[SMN.UNKNOWN]:[UNINTELLIGIBLE > COMPLIANCE(?)]
[DARE.V.500341(S1)]: "Admiral, about my squad?"
[DARE.V.500341(S1)]: "I've forwarded their NCO's name to your –"
[SMN.ACTUAL]: "Enough, Captain!"
[SMN.ACTUAL]: "If I survive this attack…"
[SMN.ACTUAL]: "I will deploy per my orders from Fleet HQ!"
[DARE.V.500341(S1)]: "Sir. I don't report to Fleet."
[DARE.V.500341(S1)]: "And the men I want? Now they don't either."
[DARE.V.500341(S1)]: "Please. Read my request."
[STATIC (2.8179s)]
[EXPLOSION (3.0194s)]
[STATIC (7.4501s)]
[SMN.ACTUAL]: "Didn't think you S1 types ever left your cave."
[DARE.V.500341(S1)]: "Desperate times…"
[SMN.ACTUAL]: "Alright, Captain. You've got your squad."
[SMN.ACTUAL]: "If I survive the attack."
[EXPLOSION (2.9016s)]
[SMN.ACTUAL]: "And right now? That'll take a genuine act of God."
[DARE.V.500341(S1)]: "I'll see what I can do."

\ ~ REQUEST COMPLETE
\ DATABASE CLOSED \> [Bungie.net]
As we just read, DARE, a female ONI officer, whom we've learned is also clad in a blue suit of Recon armor, initially requested for a group of men to be transfered to her command. And as we've discussed before, we also know that she retrieves her men and becomes the team leader of our squad of ODSTs. One thing that we've discovered in finally seeing part of the opening cutscene… is that we had really seen most of it already! In a manner of speaking…
Mickey, Dutch, Romeo and Buck are doing their best to distract themselves before the big drop. After some chiding, the squad gets their straight-laced commanding officer to give up the woman's name. "Ms. Naval Intelligence, our new boss," he scolds. "So check your mouths, find your chairs, and get set for a combat drop."

"Latest intel reports Covenant forces are amassing beneath the carrier," says the female naval captain over the radio.

"They're pulling back? Why?" asks a soldier.

"We're not going to find out waiting up here," she replies. [Game Informer, December 2008]
The text that we were given back in December, in one of ODST lead writer Jospeh Staten's first interviews, runs into and matches up perfectly with what we heard during the cutscene. In fact, the squad's commanding officer, Buck, even references something he'd said only minutes before – but that we'd first read six months ago:
"I take it back! Navy got its butt kicked."

"Hey Romeo! Remember when I told you to shut your mouth?"

"Yeah…"

"Consider that a standing order." [Cutscene, Halo 3: ODST]
Buck is obviously referring to when, only moments before, he'd ordered Romeo and the rest of the troops to quiet down about their new boss.
This time, Romeo's comments are regarding a destroyed UNSC vessel floating in the upper atmosphere of Earth. The ODSTs see this ship as they plummet to the planet, approaching terminal velocity.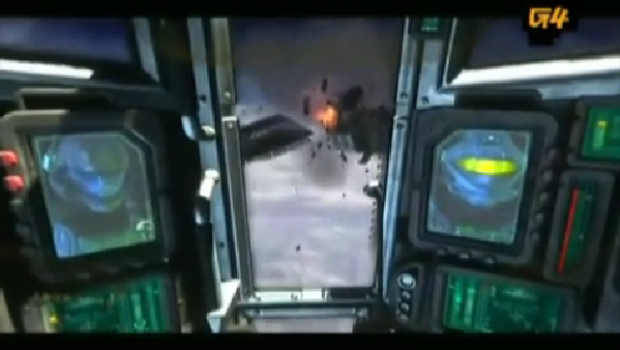 What follows will end up being quite important, so let's take a close look at the exchange that occurs between the ODSTs and their commanding officer: one soldier is speaking when DARE breaks in with a snippet of a phrase, making it seem as though she was interrupted or talked over. The rest of the ODSTs seem to have missed what she said:
"…on my mark!"

"What'd she just say?"

"…Mark!"

"We're way off course!"

"We're headed exactly where I need to go."

"But we're gonna miss the carrier!" [Cutscene, Halo 3: ODST]
As if the confusion of trying to communicate whilst falling to Earth at an unimaginable speed isn't enough, what occurs next is even worse: the Covenant cruiser that the Prophet is on makes its jump to slipspace. At this point, we're now seeing this scene from a third point of view – we originally saw it from the Chief's vantage point in Halo 2, and then through the Superintendent's eyes in the ODST announcement trailer. And one would be hard pressed to argue that our final perspective of the event isn't one of the most breathtaking moments we've ever experienced in the Halo franchise. The energy from the slipspace rupture takes out the drop pod's visual communications and then slams another ODST's pod into the Rookie's, giving it the crack that we saw in its faceplate during the announcement trailer.
THE LANDING
The first view we get of the Rookie's landing site is extremely telling.
Highest in the frame we can see the updated Mombasa skyline – a reimagining of what we saw in Halo 2, this seems more on par with how one might imagine a futuristic city. Looming in front of some of the closer skyscrapers are two Phantoms, cementing the idea that this city is controlled and patrolled by Covenant forces.
Lower in the shot, we get a great view of the environment that the Rookie will be dropping into. While very reminiscent of Halo 2's Mombasa, this area already appears to be much bigger and more wide open than all but a few of the areas we saw in the second Halo game, in a way resembling more the Mombasa of Staten's E3 2003 presentation.
After the Rookie ejects himself from his pod, we get to see for the first time the actual events that were depicted in the CG announcement trailer – and as we all suspected, the Trooper is guided by the Superintendent, his robotic voice repeating itself, and brightly lit streets flashing in a directing manner. Again, here, the colorful street markers seem to hearken back more to the Mombasa of E3 2003, rather than its final iteration in Halo 2.
The Trooper falls to the ground (taking a little damage to his health in the process), and makes his way down the roadway, being instructed further by the Super as he begins to investigate the area – specfically, the AI changes a street sign to read: "SLOW DOWN" as the ODST approaches a tunnel with enemies hiding inside.
Once past the enemies, the Rookie emerges from the tunnel and sees two enormous fires burning in the distance.
The Trooper's HUD lights up, indicating that there's some evidence nearby that he needs to collect. He follows the road to its end and finds the remnants of a detonator lying near the street's edge.
Remember the conversation between the ODSTs I mentioned earlier that we'd need to remember? Here's why it was important: as the Rookie picks up the detonator, a flashback sequence begins, and this time around we get to hear DARE's missing dialogue:
"Stand by to adjust trajectory… on my mark."

"What'd she just say?"

"Mark!"

"We're way off course!"

"We're headed exactly where I need to go." [Cutscene, Halo 3: ODST]
We may have had this dialogue written down for us in December, but seeing and hearing it now, it immediately becomes more intriguing – what is the ONI officer's purpose in rerouting the team at the last minute? Did she even want to hit the carrier in the first place?
Comments Off

on The Best-Laid Plans (Page 1)
---