As an ancillary to the core "Ground Zero" article we're offering a directory of some of the maps used to form this piece, as well as candid commentary by its author regarding content in Bungie's weekly updates.
Modern Day Mombasa Island – resolution detailed enough for one to make out the streets, landmarks and other elements which have parity with Bungie's iteration. [http://diani.info]
Mombasa Transit Authority Route Map – as captured from the Liwitoni station in Halo 2 Vista.
Modern Day Kenya – high-resolution map of modern Kenya, including reference points for Mombasa, Voi, Tsavo and Nairobi. [http://www.mambogani.com]
Below is an overhead of the events of Halo 2 across the northern surface of New Mombasa proper, right up until the opening sequences of Halo 3: ODST. Halo 2's "Metropolis" is incredibly precise in its coordination with the MTA map found in Liwitoni, as you can see the various routes and conservation areas you may have recognized from the campaign maintaining their exact dimensions and shapes. This should not only give you a sense of scale for Mombasa Island, but also help you better frame your spatial expectations for ODST.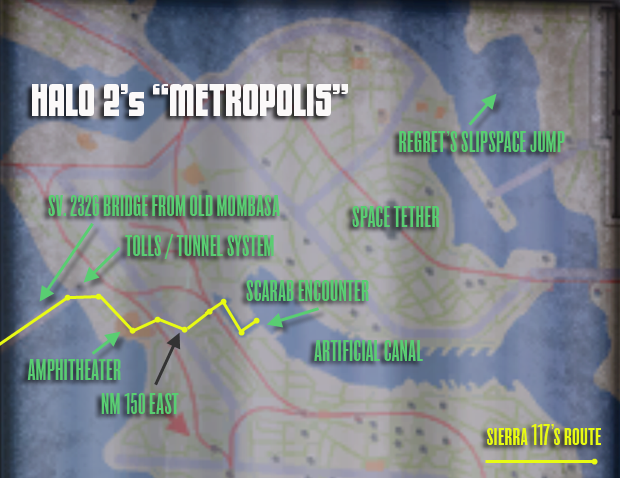 What is even more interesting about this map in conjunction with the Halo 3: ODST trailer is that at a certain point during the latter (00:13), we can clearly see the Superintendent was monitoring the Master Chief's progress by the ultra-brief "SIERRA 117 LOC UNK" flashing below the time field in the lower right hand corner. Obviously, he's referring to the fact that the Spartan has gone offline. This was probably the exact time that he boarded In Amber Clad in the cinematic called "Field Expedient," which you can find in our HBO friends' Halo 2 cutscene library.
Below is a map detailing the Rookie's insertion point as witnessed during the announcement trailer…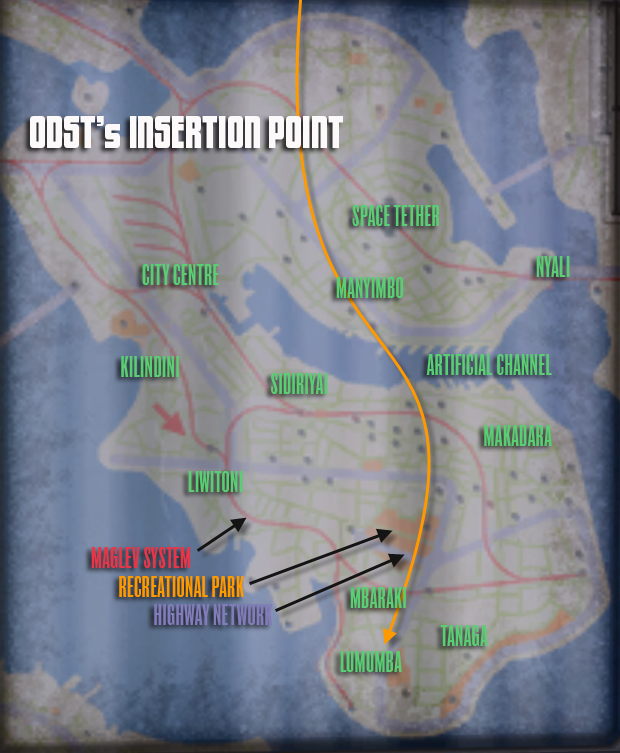 Like the article itself, we'd recommend some level of caution in applying extreme degrees of interpretation which take this map as a literal, unflinching representation of what Bungie will be doing in Halo 3: ODST.
For many of you, this is the first time you've even seen the MTA route map, so we'd find it rather unbelievable that Bungie would capture every single aspect of it to mollify a few campaign freaks like ourselves. That being said, and with the evidence already provided in the preceding article, one can feel confident in understanding the general game plan by which Bungie is more likely to have laid out the hub environment, if there was any "likely way" at all to begin with.
It is interesting to note that looking at Tanaga's location compared to Mbaraki and Lumumba (the two sites aggressively detailed in the article), we see that it is encompassed by a highway – the purple line which wraps around the edge and lines the island's south-easternmost coast. This is interesting because of the following:
There's a highway around Mombasa and Dan has made it something you can play on. [BWU 11/07/2008]
They are of course referring to mission designer Dan Miller who is already somewhat familiar with high speed vehicle scenarios in that he designed the final level of Halo 3, where the player has to take a vehicle across the surface of an unfinished installation while it's falling apart beneath them. Whether the use of "around Mombasa" is figurative or not isn't fully known, but we'd guess the former. As mentioned earlier, Halo 3: ODST is a campaign expansion, not a full retail game – it'd be a pretty hefty process to recreate the entire island, including the areas experienced in Halo 2.
It seems likely that Bungie is referring to the hub world as "Mombasa" here and that the highway will allow for easy, beltway-like access to various areas within it. Could this be the perimeter highway in the Tanaga area? Who knows, but in every Halo game there's been a frantic, balls-to-the-wall race or chase sequence which has embodied the level. Halo: Combat Evolved had "The Maw," Halo 2 had "Metropolis" and its suspension bridge assault and Halo 3 had the aforementioned level entitled "Halo."
Could this highway be the setting of a similar sequence? Perhaps.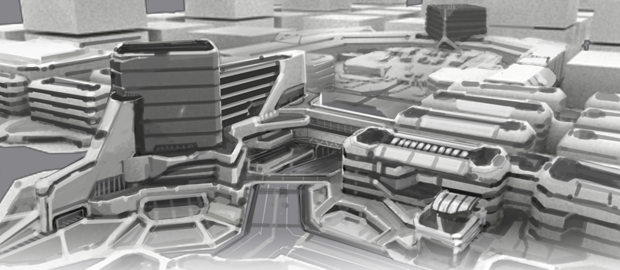 In addition to the highway Dan was building back in November, Lars Baaken was (as indicated in the same update) working "underneath" the streets. What this could mean is really up in the air for speculation. Initially, images of sewers and tunnel systems similar to what we experienced in Halo 2 come to mind, but could it be something different?
Could it relate to the reason why the Covenant went first to Mombasa rather than Voi, the actual resting place of the Forerunner artifact they were in search of? This question might lead to another for some of you:
Why would the Rookie venture to the space tether?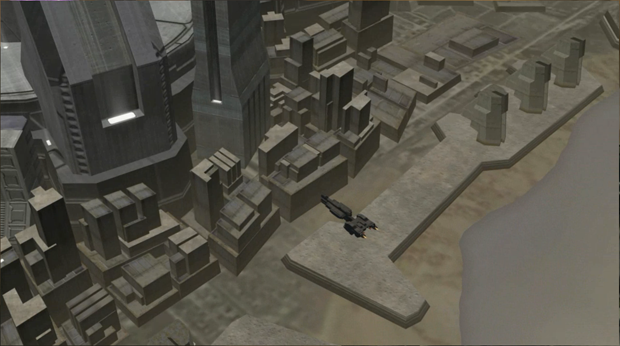 Admittedly, this is the thinnest-evidenced of all speculation in the article itself, and it is based on a general, gut feeling coupled with comments in an earlier weekly update:
The "unseen thing" we described in last week's update is now in full view in the sky over New Mombasa.  Its hollow core reveals a dark chasm broken only by the coils of energy and vapor.  Electricity ripples upward along a concentric framework before dissipating into a bruised sky. [BWU 01/30/2009]
Perhaps its the specific verbiage used by Bungie that has fueled my speculation in this regard, but such detail seems to be a difficult task to convey from this distance. There's no concrete indication that this is before or after the spire's imminent destruction (although it's clearly damaged), the writing is intentionally vague. But the depiction provided in the update seems to hint that we'll be far closer than the Mbaraki district before it falls. How close exactly is definitely uncertain.
Furthermore, whether this would be an actual mission, an escape scenario or even something as simple as a cinematic – these are all too far out on the limb for comfortable speculation. In saying that, there's definitely no lack of motivation from the fans who've witnessed this beastly structure prior, both in Halo 2 and on "Tsavo Highway" in the early moments of Halo 3. In the end though, most of the supposition for this idea is simply instinct intermingled with hope.
And, as mentioned above, the only real draw for the Rookie to make this trip would be from a narrative standpoint. Could there be something at the spire which might provide clues to the Covenant's intent with Mombasa – is it grafted into his mission? Could it involve his fellow teammates or does it pertain to this new villain which the Rookie will evidently never meet? [GamePro 01/19/2009]
Better yet, could it deal with this enigmatic "Maddie" character mentioned ever-so-briefly in the announcement trailer? After a bit of a controversy, subsequent versions of the trailer removed this frame, but there is clearly a female character whose location is being sought after during the Halo 3: ODST's story arch. Is this character related to the Superintendent? Could it be a person of interest for ONI, the originators of this mission in the first place – or perhaps she's an agent of ONI herself? Or could it be related to the urban infrastructure, possibly another AI construct?
And yes, all of these make some amount of sense, but it might be more interesting if that flash was a mere foreshadowing of something more personal to the Rookie himself. Could Maddie be someone of significance to him – a sibling, a child or a significant other? Would such a relationship provide the catalyst needed to have our ODST protagonist venture into what might be certain death at the base of the spire?
Only time will tell. And when time does tell, I'll be there in the front row.
Comments Off

on Map Directory
---