In the Summer of 2004, a series of posts concerning Halo 2's secretive multiplayer beta burnt a hole into the internet on a forum known as Nightly Net. With this hole still smoldering under the persistent heat of speculation and rumors, a close-knit group of Halo fans decided to take it to the road and created the community known as Ascendant Justice. When Halo 3 information began to surface, several members of this community contributed to H3DA or the Halo 3 Data Archive, which was, at that time, the most expansive collaboration of Halo 3 data and speculative discussion. Although the site has since been disbanded, the forum community is still alive and well.
From the nucleus of that group, three Halo fans came together with a similar plan. The culmination of that purpose has been manifested in this site.
Our purpose and intent are quite simple: To present and maintain dynamic, compelling and informative coverage of the Halo franchise.

Jironimo (center) has been with the group since 2004 and has taken the leadership burdens of all that is Ascendant Justice for the majority of that time. His impetus and goals are what drive the direction and intensity of this blog and the growing Ascendant Justice community. While he usually stays out of the limelight, his contributions are emphatic, and his dedication to the success of the Halo franchise and community is unparalleled. [jironimo@ascendantjustice.com]
Cocopjojo (left) has been a fan of the Halo franchise since its first game. Keeping watch for the latest news, he'll be helping the blog stay up to date with all of the franchise's many developments. Strong affections for the Halo community are what's kept him continually involved with the series. [cocopjojo@ascendantjustice.com]
Vociferous (right) has been a fan of Halo since its inception and has closely followed almost all elements of the franchise's development over the last seven years. His dedication to the story and lore of Halo and all of its other facets was exemplified in the quality and quantity of information available in the Halo 3 Data Archive during its time. He'll be bringing his own brand of speculation, prose and candor to the blog from time to time. [vociferous@ascendantjustice.com]
If you have any questions for the staff, feel free to contact us at blog@ascendantjustice.com.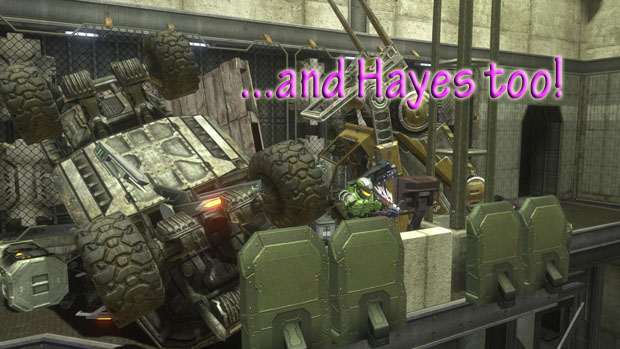 As you can see, we pretty much give him all of our crap. Seriously, our Needler-toting, IT/networking friend is the only reason we haven't blown up the internet yet. Thank you, Major Hayes, for all of your hard work!